| | |
| --- | --- |
| Posted by Mohammad Khan on September 26, 2011 at 6:35 AM | |
Last week, a challenge for a public dialogue was issued to Ergun Caner from Adnan Rashid. With Ergun generating a persona of a professional public debater who is willing to "debate anybody, anytime and on any topic", it is obvious that he would accept this proposal from a well-known public speaker of iERA. But what has his response been?
1. Blocks me on Twitter
The blocking of me on Twitter actually happened before the challenge was issued, but I only realised a week or so ago when I clicked "follow".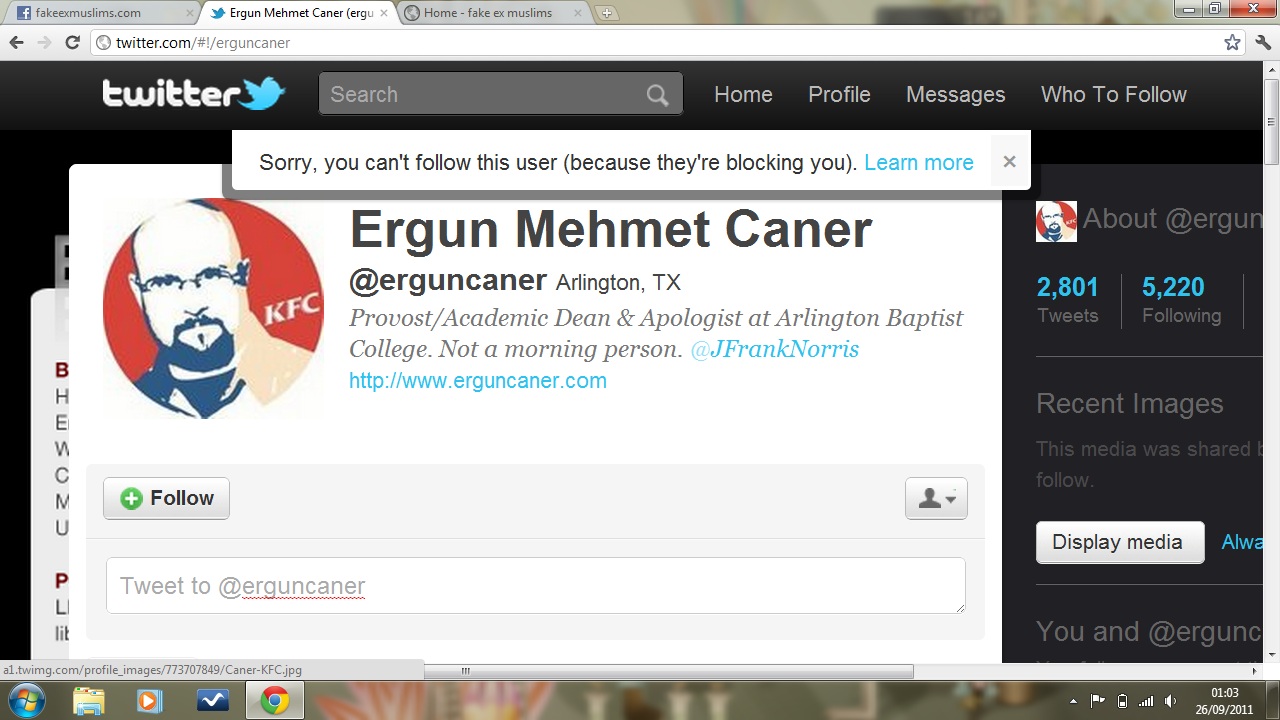 2. Emir Caner blocks me on Twitter
Having clicked "follow" on Emir Caner's Twitter and posted him links to the challenge, he has blocked me.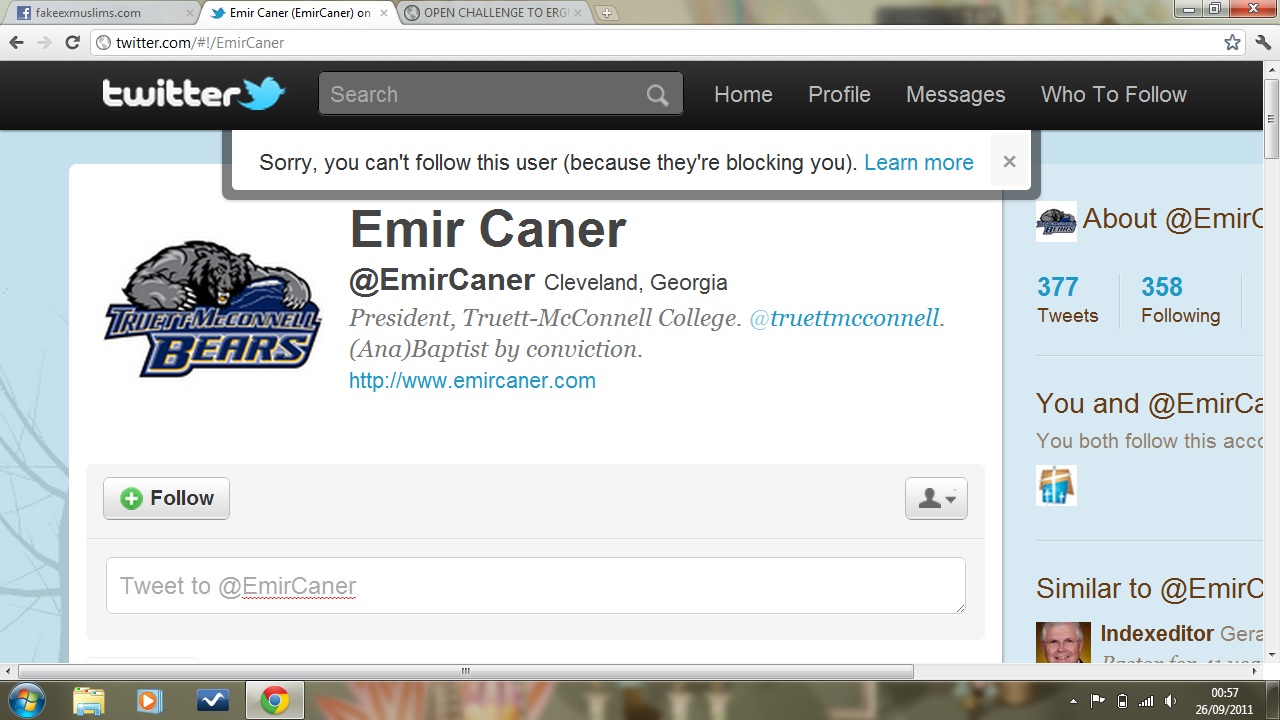 3. Ergun's tells his supporters to ignore critics
On 22nd September 2011, Ergun told his supporters to "Block stalkers, trolls & incessant critics" after I posted links of the challenge to those who interact with him on Twitter.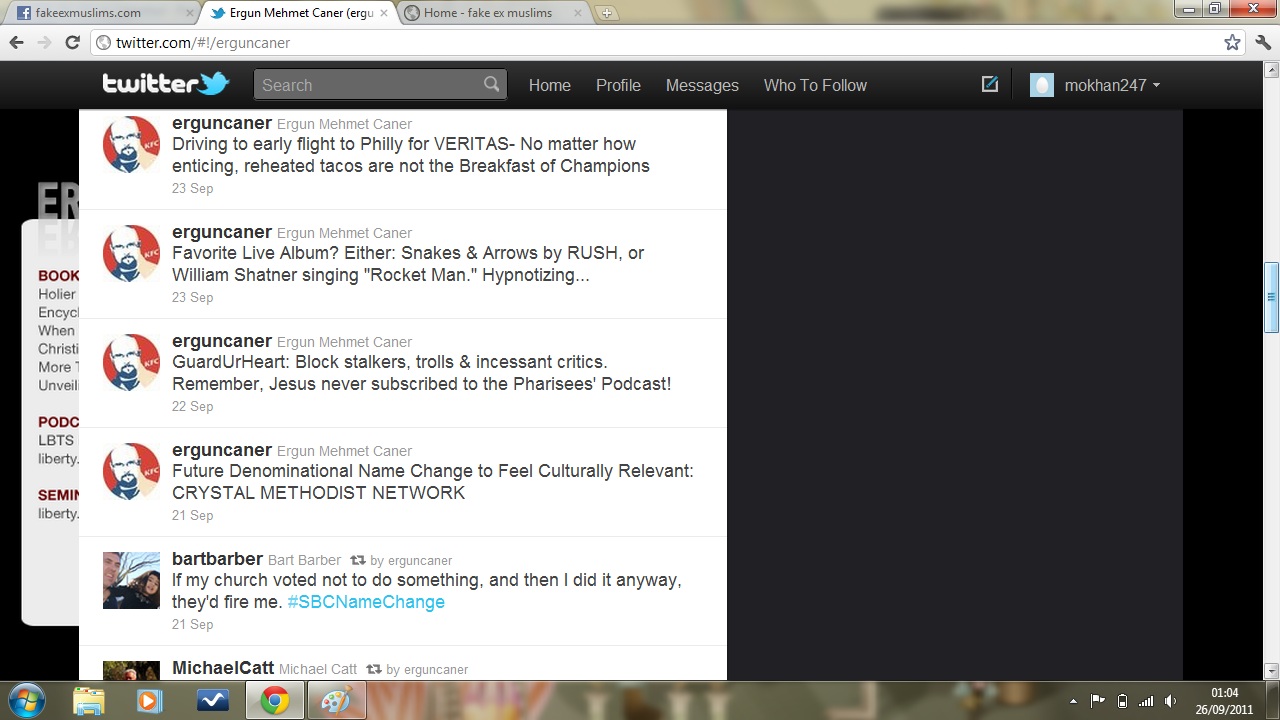 Rather than giving a proper response to the challenge, Ergun is just running away. The question must be asked, why is a man of his calibre turning a blind eye to this challenge? Wouldn't someone of his status be more than willing to confront a Muslim on a public platform? You would think so, but, evidently not.
This means that the likes of Ergun Caner are happy to just roam Churches talking about why Islam is "bad" whilst never having the desire to speak publicly with a Muslim, even though this is what he claims he does. The reason for why this is the case is clear – he will not be able to lie in the presence of Muslims.